Where Angels Fear To Trek is the title given to parts two and three of the second serial in the first season of The Game of Rassilon.
Synopsis
[
]
The TARDIS is pulled aboard the starship Patriarch; the Doctor, Millie and Travis find themselves in orbit above the planet Epsilon IX. But something dangerous lurks on the planet below…
Summary
[
]
To be added
Cast
[
]
Crew
[
]
NPCs
[
]
Major
[
]
Michelle Digman

Captain Dorothy Ellison

Engineer Galen

Lt. Matheson

Commander Peeples

Dr. Trimble

Weeping Angels
Minor
[
]
Ensign Xander

Ensign Zebrowski

Patriarch Computer
Continuity
[
]
Production
[
]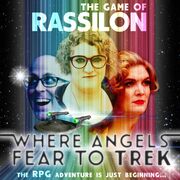 Recorded back-to-back with The Edge of Discovery.
This is the first episode with a cold open prior to the opening theme.
Much of this episode seems to take inspiration from Star Trek.
Two pieces of library music from Kevin MacLeod - "Space X-plorers" and "Controlled Chaos" - are used in this serial.
Recorded at Geeky Teas & Games in Burbank, California.
Links
[
]