Where Angels Fear To Trek is the title given to parts two and three of the second serial in the first season of The Game of Rassilon.
The TARDIS is pulled aboard the starship Patriarch; the Doctor, Millie and Travis find themselves in orbit above the planet Epsilon IX. But something dangerous lurks on the planet below…
To be added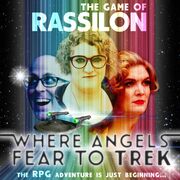 Recorded back-to-back with The Edge of Discovery.
This is the first episode with a cold open prior to the opening theme.
Much of this episode seems to take inspiration from Star Trek.
Two pieces of library music from Kevin MacLeod - "Space X-plorers" and "Controlled Chaos" - are used in this serial.
Recorded at Geeky Teas & Games in Burbank, California.
Community content is available under
CC-BY-SA
unless otherwise noted.